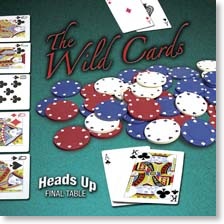 Chris Camp at Camp Music assembled its finest lineup of studio musicians to launch Windmar Music's musical tribute to the Texas Hold'em movement. This exciting team includes veteran and studio aces, Bob Ryan on guitar, Archie Thompson on saxophone, Cliff Saunders on bass guitar, Rick Kurianski on drums, Chris Camp on B3 and vocals along with lead singer and entertainer Joe Vasconcellos.
Combining elements of several energized styles of music into one high-octane sound, the band plays a "Rockin' soulful blues" bag, wide open and full of fun! Each member of the band is a solo artist in their own right and brings a strong sense of personality and team play to the group.
Heads Up – Final Table
Heads Up, Final Table and Patience, are two terrific songs that accurately and emotionally describe the excitement , thrill and strategy involved in playing and winning one of the most popular and exciting games of chance, skill and entertainment, Texas Hold'em.
Credits & Musicians
All songs written by Peggy Windrum
Produced, Mixed and Mastered by Chris Camp, Camp Music (Escondido, CA)
Art Design by Holly Marshall, Holamar (Carlsbad, CA)