Treat Yourself to a
Daily Dose of Vitamin "R"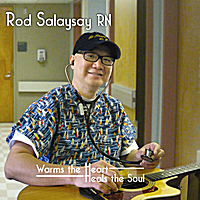 Rod is a folksinger in the true tradition. His travels have led him from story to story, where he witnesses life, death and heartaches that become miracles. Watching Rod comforting patients or making music with his friends and family, you begin to see what an interested and involved lover of humanity he is. He absorbs the pulse of the situation and feels the heart-beats and emotions of everyone he shares his smile and laughter with. Treat yourself to a daily dose of Vitamin "R". You will come away from listening to Rod's music feeling great!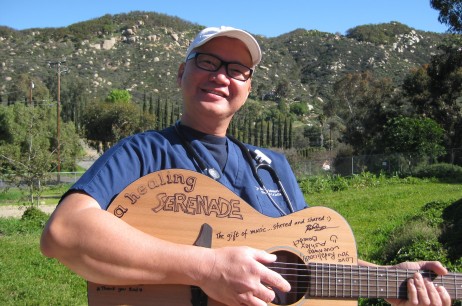 "Warms the Heart – Heals the Soul"
This collection of songs by Rod Salaysay is a treasure that will take you on a journey of faith, acceptance and recovery. As an intensive care nurse Rod gathers up his experiences in the front lines of life's battlefield and crafts these events into uplifting songs of hope and encouragement. Rod's storytelling, warm vocal and feel good music is just what the doctor ordered.
Album Credits
All songs written by R. Salaysay, P. Windrum, C. Camp
Musicians
Rod Salaysay — Lead vocals, Background vocals, Rhythm guitar, Acoustic Lead (Times of Your Life, Leaving All My Blues Behind) Piano (Right By Your Side)
Chris Camp — Bass guitar, B3, Piano, Keyboards, Electric guitar, Acoustic guitar, Harmonica, Ukulele, Drums & Percussion
Produced and Arranged by Peggy Windrum and Chris Camp
Recorded, Mixed and Mastered by Chris Camp, Camp Music Escondido, CA)
Art Design by Holly Marshall, Holamar(Carlsbad,CA)
Photography by C. Camp and R. Salaysay
Original Artwork by Rod Salaysay
©2011 Windmar Music, LLC (BMI)